Bathroom Renovation featuring Mosaic Tile Outlet
Okay, so I cannot be the only person addicted to constantly renovating their home…right? I mean it could be the smallest thing, like getting a new mirror from Home Goods, or a huge blown out project like a new bathroom, I love it all. No matter what I do, there is a lot of work involved, but I ironically love the process too. It sort of builds this excitement because it's never just an instant gratification. No job takes just "one day." And you know what they say, "all good things are worth waiting for" or something like that. Before I start anything, I always spend in insane amount of time on Pinterest. Even if I don't plan on replicating their ideas, it still helps me get my creative juices flowing. I love inspiration and I honestly get a ton of it from the Ikea catalog.
I decided to add some tiles to my bathroom wall recently. Maybe even a backsplash. Truth is, we finished remodeling our bathroom right before Ella arrived. The entire thing was torn out and rebuilt from scratch. I didn't put tiles on the wall because I wanted a super simple space. But now that I love at it, I would not mind adding a few tiles on the bottom of my walls. Before I get the tile samples I am currently debating on, below are a few of my inspiration pieces. My bathroom looks nothing like them, but they did influence me in one way or another.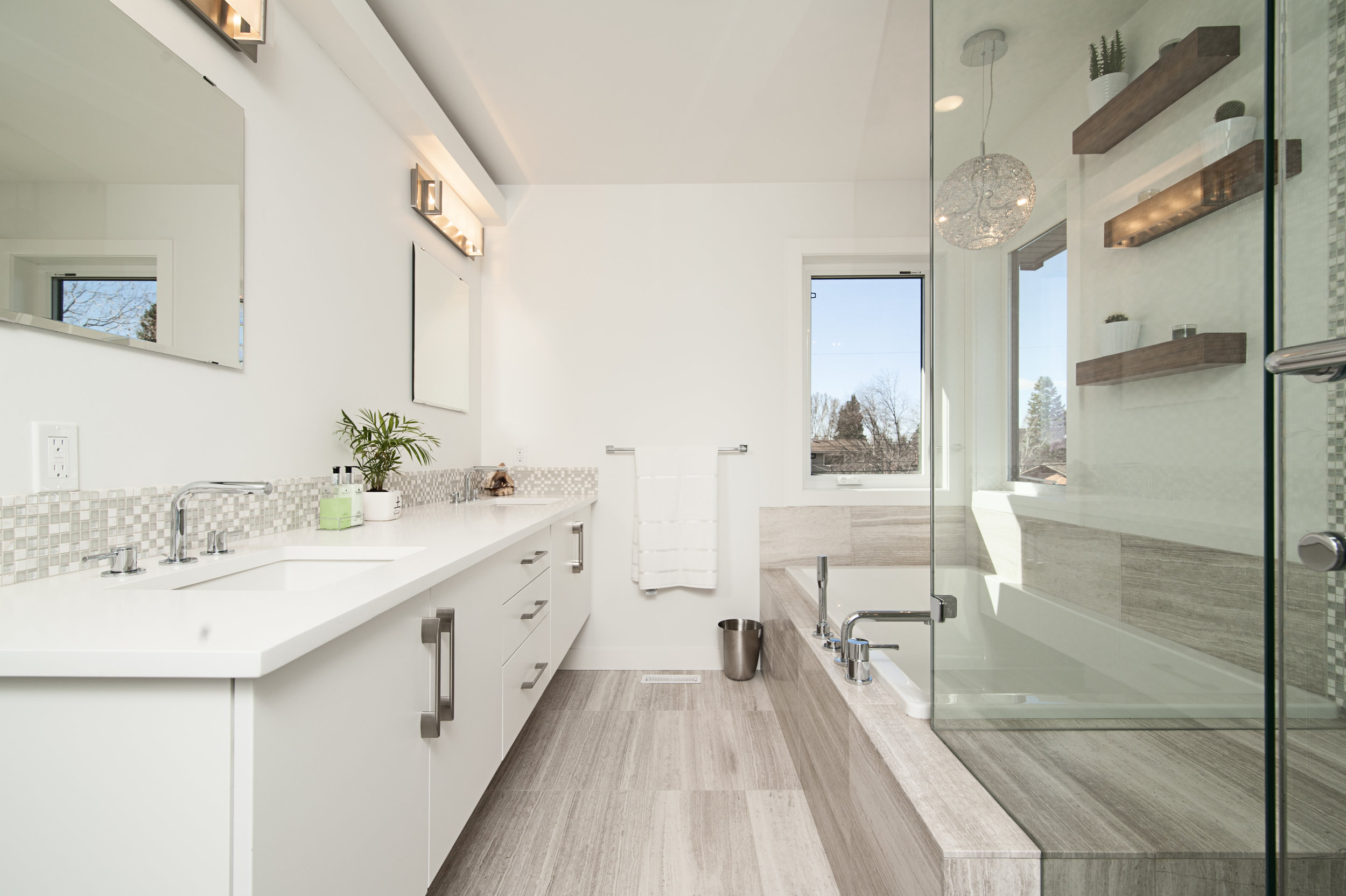 Before I could begin, I looked a place I could purchase my tiles. I came across Mosaic Tile Outlet and decided to contact them. I mean within a few days I had picked out my tile samples. Their inventory is BEAUTIFUL. Within a couple of days I got my shipment- I was honestly blown away at how fast the tiles arrived. To my surprise, the tiles I overlooked online actually ended up being my favorite. Here is a picture of my sink - it's very plain and is accessorized by my wooden Ikea mirror that we painted white.
My favorites from the get go were the Arabesque style tiles- I honestly have not seen anything like them before. I was thinking of putting the white (the far right) as a backsplash but then I fell in love with the marble one (far left). I also absolutely love the Spanish style tile (second from left) but I can't figure out where to put it. I've seen a few people create an entire outside patio with that print but I am not sure if I am ballsy enough for that. Also, being a mom, I'm constantly thinking of ways Ella can get into trouble (aka breaking the tiles).
I started a little informal poll on Instagram, and I think the consensus was for the marble tile. What do ya'll think?
Check out Mosaic Tile Outlet for all your tile needs- you won't regret it!
xoxo,
Ellen